Asynchronous Adapter Omega
Specifications
Documentation
Software
Features:

8 full duplex ports
Up to 460.8 kbps
Asynchronous mode
RS-232
Full modem control
Extended FIFO depth of 64 bytes
Digiboard PC/8 and ARNET compatibility

The Cronyx-Omega is a full duplex asynchronous multiport adapter for IBM PC and compatible computers with 8 RS-232 ports.
The adapter can be configured to simulate one of two popular multichannel adapter architectures - Digiboard PC/8 or ARNET, providing support by virtually all commonly used operating systems.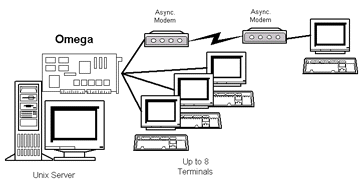 The heart of the adapter is ST16C654 controller with 64 bytes of transmit and receive FIFO (a product of EXAR Company). Extended FIFO depth reduces interrupt processing overhead and increases data throughput. The Omega allows to occupy the upper I/O address space. This is essential if more then one adapter is to be installed into computer.
Currently available models are listed in Prices. Please, contact technical support if you are unsure which model to choose.

PC Bus Interface
Bus Type
ISA, 16 bit
I/O Base Address
100h - 780h, Jumper Selectable
Interrupt Register Address
1100h to 1780h
I/O Address Space
64 Bytes
Interrupts
IRQ 2/9, 3, 4, 5, 7, 10, 11, 12, 15, Jumper Selectable
Serial Interfaces
Number of Channels
8
Interface Type
RS-232
Maximum Single Channel Data Transfer Rate
460.8 kbps
Baud Rate Generator
Independent per channel
Asynchronous Transfer
5-8 Bits/Character, 1-2 Stop Bits
Error Detection
Parity bit
Modem Control Signals
DTR, DSR, CTS, RTS, CD, RI
Board Size
Height: 75 mm, Width: 160 mm
Operating Systems
Windows NT/2000/XP/2003, Windows 9x, MS-DOS, DesqView/X, OS/2, QNS, SCO Unix, SCO Xenix, Unixware, Unix SVR4, FreeBSD, OpenBSD, NetBSD, BSD/OS, Linux
Некоторые документы хранятся в формате Adobe® Acrobat® Reader®


User's Manual in Russian


User's Manual in English

Return to WAN Adapters or Digital Communication Equipment

Copyright © 1996-2022 Cronyx