Fiber Optic Multiplexors FMUX/S and FMUX/B
(4, 8 and 16 E1 ports; w/o Ring Support)

Discontinued, recommended replacement is: FMUX/M, FMUX/S

Specifications
Optical Transceiver Parameters
Documentation


Documentation

Some of the documents are in Adobe® Acrobat® Reader® format

Features
Transmission of 4/8/16 E1 channels via fiber optic link in transparent (ITU-T G.703) or framed (ITU-T G.703 and G.704) mode
5-channel versions (4 E1 channels and either Ethernet 10/100Base-T or V.35/RS-530/RS-232/X.21 channel)
18-channel versions (16 E1 channels and either Ethernet 10/100Base-T and V.35/RS-530/RS-232/X.21 channel)
Single mode or multimode fiber
Single fiber option
Distance up to 150 km
Compliance with ITU-T G.703, G.742, G.823, G.955 Recommendations
Local and remote loopbacks
Integrated BER tester
Console RS-232 port
Remote management
Optional Ethernet 10Base-T port for SNMP-based management (/S version only)
Dry contacts alarm interface
Stand-alone or 1U for 19-inch rack
AC or DC power
Multiplexors FMUX-4E1, FMUX-8E1 and FMUX-16E1 transmit 4/8/16 E1 channels respectively over the fiber optic link. All channels have independent sync signals with their own frequencies.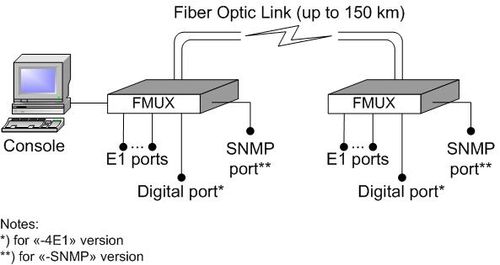 There are 5-channel and 18-channel versions for transmission of four E1 channels and one/two digital port channel (Ethernet 10/100Base-T and/or V.35/RS-530/RS-232/X.21).
FMUX has LEDs for channels ready state, optic transceiver operability, loopbacks enable state and test mode indication. Internal loopbacks and integral BER tester operation are controllable by the console port located on front panel. BER tester meters bit error rate in optic link using permanent or pseudo random code in compliance with the ITU-T O.151 Recommendation (test sequence length equals to 223-1=8388607 bits).
Remote device management is available by remote login feature. Service data exchange is supported by additional service channel using same optic link.
Device state can be monitored by SNMP using dedicated Ethernet 10Base-T port ("-SNMP" option available for "/S" version must be ordered).
Alarm indication relay with "dry contacts" interface in compliance with the ITU-T G.742 Recommendation, paragraph 10, is supplied.
The firmware of the device can be updated by user.

E1 Interface (2048 kbit/s)
Connector Type
RJ-48 (female 8 pins)
Line Code
HDB3
Framing
Transparent; both framed and unframed modes supported
Error Detection
Bipolar Violation
Line Impedance
120 Ohm (Twisted Pair)
Receive Signal Attenuation Range
From 0 to -12 dB
Jitter Attenuator
In transmit path
Overvoltage Protection
TVS
Overcurrent Protection
Fuse
Alarm Interface
Connector Type
desktop version: 6 pin Mini DIN
1U version: DB-9 (male)
Relay Contact Current
Up to 600 mA
Relay Contact Voltage
Up to 110 VDC; up to 125 VAC
Console interface
Connector Type
RS-232 DCE, DB-9 (female)
Protocol
Asynchronous, 9600 bit/s, 8 bit/symbol, 1 stop bit, no parity
Modem Control Signals
DTR, DSR, CTS, RTS, CD
Diagnoctic modes
Loopbacks
Local, Remote
BER Tester
Built-in
Control
Via console RS-232 port
Physical
Box
Desktop or 1U rack mount for 19-inch cabinet
Dimensions
200 mm x 260 mm x 65 mm (desktop version)
444 mm x 262 mm x 44 mm (1U version)
Weight
1100 g (desktop version)
3400 g (rack-mount version)
Power source
AC power source
176-264 V, 50 Hz
DC power source
36-72 V
Power consumption
20 VA Max
Environment
Temperature
0° - 50°С
Humidity
0 to 80 %, non-condensing
Optical Transceiver Parameters
Specification
TM13
TS13
TS15
TW13
TW15
DW13
DW15
Fiber Type
Multimode
50/125
Single Mode
9/125
Single Mode
9/125
Single Mode
9/125
Single Mode
9/125
Single Mode
9/125
Single Mode
9/125
No. of Fibers
Two
Two
Two
One
One
Two
Two
Minimum Fiber Optic Cable Power Budget
13 dB
29 dB
29 dB
26 dB
26 dB
17 dB
17 dB
Fiber Optic Cable Minimum Length Limitation
No
No
No
No
No
No
No
Maximum Fiber Optic Cable Length (depends on cable parameters)
2 - 5 km
40 - 80 km
80 - 150 km
40 - 60 km
40 - 60 km
25 - 40 km
25 - 40 km
Note
Uses WDM, requires TW15 optical module at opposite end
Uses WDM, requires TW13 optical module at opposite end
Uses WDM, requires DW15 optical module at opposite end
Uses WDM, requires DW13 optical module at opposite end
Transmitter
Transmitter Type
LED
FP LD
DFB LD
FP LD
DFB LD
FP LD
DFB LD
Wavelength
1310 nm
1310 nm
1550 nm
1310 nm
1550 nm
1310 nm
1550 nm
Optical Output Power
-19 dBm
-5 dBm
-5 dBm
-8 dBm
-8 dBm
-14 dBm
-14 dBm
Spectral width
200 nm
3 nm
1 nm
3 nm
1 nm
4 nm
2 nm
Receiver
Maximum Input Optical Power
-14 dBm
-3 dBm
-3 dBm
-3 dBm
-3 dBm
0 dBm
0 dBm
Receiver Sensitivity
-32 dBm
-34 dBm
-34 dBm
-34 dBm
-34 dBm
-31 dBm
-31 dBm

MIB-files for SNMP-management

Return to Fiber Optic Modems and Multiplexors or Digital Communication Equipment