Multiplexer-Crossconnector E1-DXC
(rack-mount model 1U)
Features:

Four E1 ports
Synchronous V.35/RS-530/RS-449/RS-232 or Ethernet interface (optional)
ITU G.703, G.704, G.706 and G.823 compliant
Up to 2 km (22 AWG twisted-pair cables)
CAS and CRC4 framing
128 x 128 non-blocking switching matrix
Sa bits crossconnection
Clock sources: Internal oscillator, E1 receiver or synchronous port
Master & backup clock sources
Asynchronous mode for RS-232 interface
Digital and line loopbacks
Integrated HDLC buffer
Integrated BER tester
Supervisory RS-232 port
SNMP Ethernet 10Base-T control port
Remote management
Dry contacts alarm interface
Rack-mount 19'' 1U
AC or DC power
Upgradeable firmware
The E1-DXC device has four E1 interfaces. One E1 port can be replaced with serial multi-standard or Eternet interface. The multi-standard interface is switchable by adapter cable to RS-232, RS-530, RS-449 or V.35 standards. The E1-DXC provides n*64 Kbps (n = 1-31) cross-connect between any ports.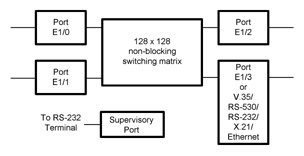 The device can be AC (220V) or DC (60V) powered and provided as a rack-mount 19'' 1U case (the device is also available as a stand-alone unit and as a card for 19'' 3U Cronyx rack.
The device setup and diagnostic mode control are performed via the RS-232 supervisory port, from remote device or via additional SNMP port.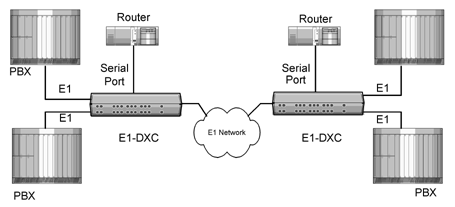 Currently available models are listed in Prices. Please, contact technical support if you are unsure which model to choose.

E1 Interfaces
Line Code
HDB3
Line Impedance
120 Ohm (Twisted Pair)
Receive Signal Attenuation Range
from 0 to 43 dB (up to 2 km of 22 AWG twisted-pair cable)
Jitter Attenuator
In either the receive or the transmit path, programmable for 120UIpp attenuation
Frame Structure
per G.704
Multiframes
CRC4, CAS
Frequency Offsets Adjustment
Controlled Frame Slip
Digital Interface
Data Transfer Rate
up to 1984 kbps (Nx64 kbps)
Clock Options Supported
TXC, RXC, ETC, ERC
Modem Control Signals
DTR, DSR, CTS, RTS, CD
Interface Ethernet
Interface
10/100Base-T
Connector Type
RJ-45 (female)
Data Transfer Rate
up to 1984 kbps (framed Nx64 kbps),
or up to 2048 kbps (unframed)
Mode
100 Mbps Full-duplex,
100 Mbps Half-duplex,
10 Mbps Full-duplex,
10 Mbps Half-duplex,
or Autonegotiation
Address table size
15000 MAC addresses
Maximum packet size
1600 bytes, including MAC header
Protocols
Transparent or Cisco-HDLC bridging IEEE protocol, automatically selected
Quality of Service
8 priority levels
Alarm Interface
Connector Type
6-pins Mini DIN (female)
Relay Contact Current
up to 250 ma
Relay Contact Voltage
up to 175 VDC
Supervisory Port
Interface Type
RS-232
Serial Protocol
asynchronous 9600 bps, 8N1
Connector
DB-9 (female)
Diagnostics
Loopbacks
Digital (for models with digital interface) and Line Loops, activated via supervisory port or via SNMP port
BER Tester
Activated via supervisory port, from remote device or via SNMP port
Some of the documents are in Adobe® Acrobat® Reader® format


User's Manual for E1-DXC/S with SNMP port in Russian


User's Manual for E1-DXC/S-4E1 model (4xE1, 19" 1U, without SNMP port) in Russian


Справочник по интерфейсным кабелям Cronyx.


MIB-files for SNMP-management

Return to Digital Service Access Devices or Digital Communication Equipment

Copyright © 1996-2022 Cronyx